Women's Ministries
Provides an avenue for the women of Community Christian Church to come together for Christian fellowship, study, and service.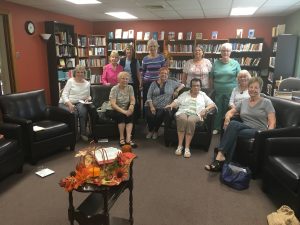 There are two women's small groups that meet monthly:
Priscilla Small Group
 at 7:00 p.m. on the second Tuesday of each month from September through May;
Rebecca Small Group
 at 9:30 a.m. on the third Tuesday of each month, also from September through May. All women are invited to participate in a Circle that is most convenient for them, and in fact some women elect to attend both Circles.
A women's study group facilitated by Liz Dupuis meets at 7:00 p.m. most Tuesday evenings at church. Check with the church office to confirm the meeting.  No 'homework' is required for this study. Any questions may be directed to Liz or the church office .
CCC women organize a number of service projects throughout the year, such as collecting healthy snacks for a local elementary school, kid friendly foods donated to Circle of Concern, cookies and treats for college students, gift baskets for shut-ins, supporting a local organization at Christmas with donations of toys and books and more.    For our winter service project we make fleece blankets for the Project Linus ministry.
Women of CCC sponsor  a monthly Senior Citizens Luncheon, coordinate Congregational and Bereavement Meals,  organize periodic Social and Service Activities of special interest to women  and in general represent the interests of all women of Community Christian Church. Ours is a vital, active ministry in the life of the church. Our activities reach beyond our church walls to touch lives in our community and our world through our outreach projects and charitable services.
The Stable Ministry is a ministry of Community Christian Church operated by the men and women of CCC.                        To learn more: