The Stable Ministry
The Stable is a year-round ministry of Community Christian Church that accepts donations of used clothing, household items, furniture, books, jewelry, toys, baby gear, and similar items which we repair, wash, sort, and prepare for sale at our three annual garage sales—the "Stable Sales"—each year. The proceeds of the sales are used to support charity and outreach projects of the church and for various other church projects. In addition to our "Stable Sales" we also give items to local organizations:
·         St. Mary's Hospital – onesies for newborns to families who need help
·         Memorial Boulevard and Pilgrim Church clothing for homeless men
·         Board of Religious Organizations toys for children in the city
·         Charity Sharity sewing machines for women to start businesses overseas
·         Church on the Street clothing for homeless people
·         St. Cronan's Parish various items for people in the city
·         Matthew Dickey's sporting goods
·         Circle of Concern families who shop for free at October Stable Sale
·         families who are in need due to fire, floods, etc.
This is just a few of the organizations that we help with the items given to us.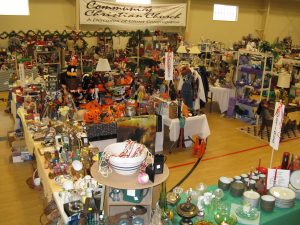 Why Is It Called "The Stable"?
In the Christmas Story, the stable at the inn at Bethlehem was where Joseph and Mary stopped to take shelter for the birth of Jesus. We chose this name for our ministry because our stable shelters what others have no room for in the main building of their lives. We give new life to discarded or outdated material goods by giving them a second chance at usefulness.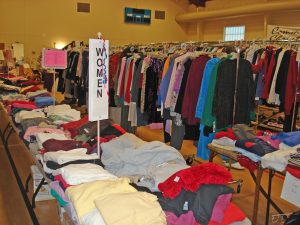 Who operates the Stable?
The Disciples Women Ministry at Community Christian Church operates The Stable. The men and women who volunteer work Mondays and Thursdays from 9am to mid-afternoon with lunch being provided. They sort and catalogue each week's donations. Drop-in help is always appreciated.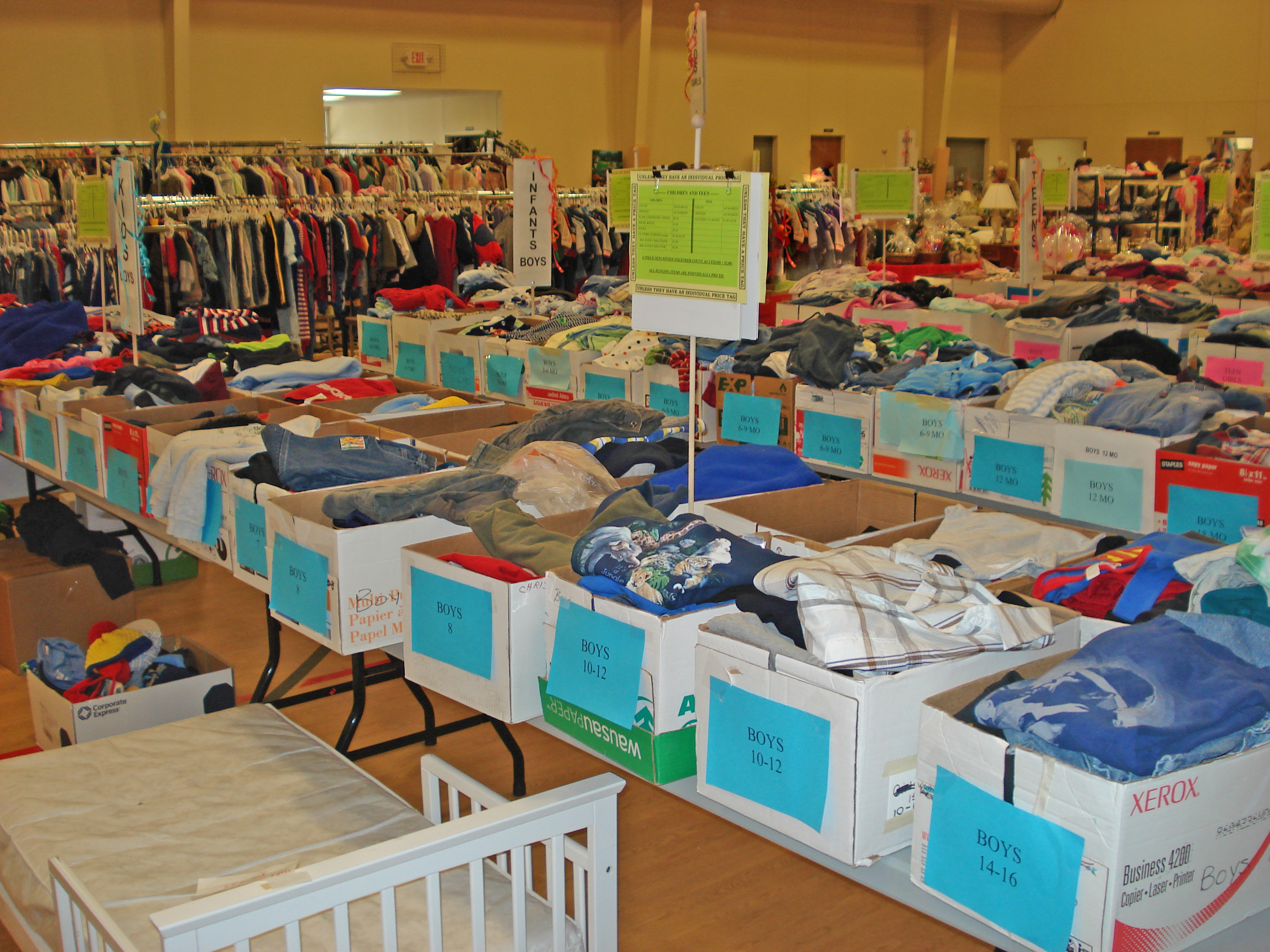 When is The Stable open?
The Stable is open to the public only during the three sales each year. The Stable sales start on the first Tuesday of May, August, and October and continue until Saturday afternoon of that same week. Hours during the sales are from 9:00 a.m. until 3:00 p.m. on Tuesday and Friday, from 9:00 a.m. until 6:00 p.m. on Wednesday and Thursday, and from 8:30 a.m. until 2:00 p.m. on Saturday.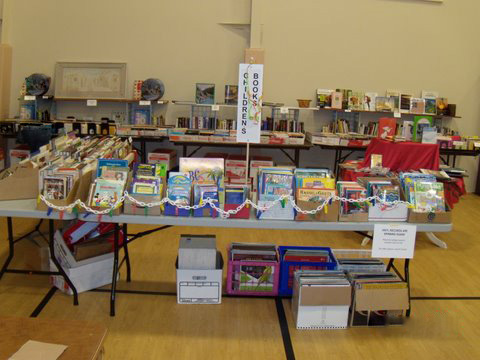 Does the Stable Have a Mailing List?
Email reminders are available to anyone who asks. You can let the church office know, register at the checkout desk during any sale or submit the form below.
Can I donate to The Stable?
The Stable Ministry welcomes donations of useable items. If you have something you would like to donate, please call the church office at 636-394-2772 and leave your name and telephone number, along with a brief explanation of the item. A member of the Stable Ministry will contact you as soon as possible. Donations cannot just be left at the church. While the Stable Ministry welcomes donations, we do have three guidelines we ask that you keep in mind when deciding whether an item is suitable for donating to the Stable.
IS IT CLEAN? Could someone wear or use this "as is"?

Clothes should be washed and free of stains, rips, etc.

If possible, leave garments on their hangers. They will arrive less wrinkled. We will provide replacement hangers if needed.

Household items should be clean and not broken.

IS IT COMPLETE? Are all the parts here?

Check toys, games and puzzles to be sure that all the pieces are included. Electrical items must have their cords and, if possible, instruction manuals.

Electrical items must have their cords and, if possible, instruction manuals.

Shoes, gloves, and mittens come in pairs!

IS IT USEFUL? Could someone use this; does it work?

Small electrical appliances (toasters, coffee makers, clock radios, etc.) should be in working order.

Clothing should have buttons and zippers that work. Include size if possible, especially on men's suits and pants. Example: 44R or 44L or 38W x 32L.

Linens need to be in useable condition, not too worn.
Some items never sell or are very difficult to sell. There are requirements for recycling some of these items and we have to pay to dispose of them.
PLEASE DO NOT DONATE AUTOMOBILE TIRES, BATTERIES, ANSWERING MACHINES, OLD COMPUTERS, COMPUTER MONITORS, OLD PRINTERS, OLD-STYLE TUBE TELEVISIONS.
CALL BEFORE DONATING NEWER COMPUTER SYSTEMS AND NEWER FLAT-SCREEN TELEVISIONS.
PLEASE DO NOT DONATE TEXTBOOKS, TORN OR SOILED/MOLDY BOOKS, ENCYCLOPEDIAS, NATIONAL GEOGRAPHIC MAGAZINES, OR BOOKS WITH WRITING OR UNDERLINING IN THEM.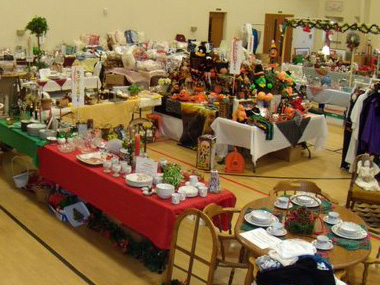 THANK YOU FOR YOUR SUPPORT!