CHILDREN'S MINISTRY!
Community Christian Church is a congregation who welcomes and loves the presence of our children in worship. We encourage children to join us in worship with their families. Sunday morning worship includes a Children's Moment within the service.  We have children's material provided to help engage kids as they worship with us.

Our nursery is a place where newborns to kindergarten can play and have fun during worship.  Newborns to 3rd grade may be present during the Adult Faith Learning Hour.  Our permanent, trained, and experienced staff members welcome our youngest friends. All infants and children check in and check out through the same door. We also have a pager system available for parents just in case we need to contact them during services or faith learning hour.
At 10:15 each Sunday, immediately following the Children's Moment during worship, we offer children who are in kindergarten to 5th grade a Faith Learning time. Our knowledgeable and dedicated teachers create a fun learning environment through crafts, songs, games, and stories.  Bible stories throughout the year will come from the Old and New Testaments.  Children in 1st to 5th grades return to the sanctuary to join their family just before we share communion with one another at the end of worship.
God's Kids Choir is our children's choir that practices on Sundays from 4-5 PM. It is open to kids age 4 through 5th grade. The choir shares God's love through two musical drama performances each year, one around Christmas and the other at the end of the school year. They are enthusiastic to sing several times a year during worship.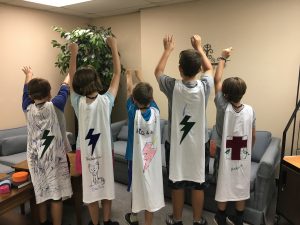 Vacation Bible School
 is an annual event that brings stories of faith alive through an engaging theme designed to reach children. VBS is open to 3 year olds-5
th
graders. Children participate, while youth and adults lead, in a wonderful week of finding our strength and power through faith.